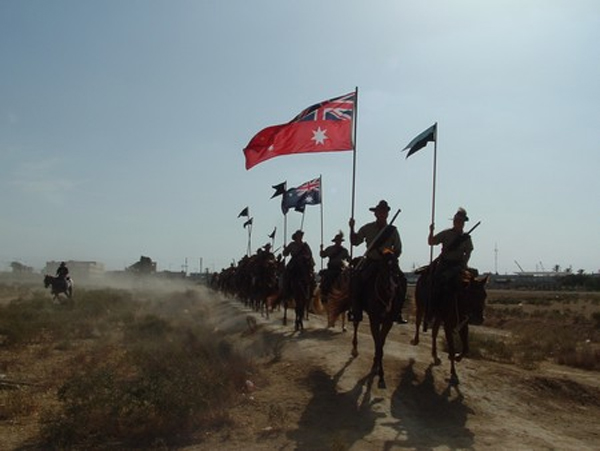 100th Anniversary Beersheba Light Horse Brigade Tour
Saturday 28 October 2017
Depart Australia on our adventure to Beersheva (meals on plane)
Sunday 29 October 2017 Tel Aviv
Arrival Tel Aviv. Afther checking into our hotel we head north west to Tel Aviv where we will attend the opening ceremony for the Beersheva Centenary Commemorations. This afternoon we take a tour of the city sites including the Jewish History Museum and historic Joppa.Overnight Tel Aviv.(D)
Monday 30 October 2017; Tel Aviv Beersheba
Our journey takes us south to Beersheva. Then to Navitm where we will pick-up and follow the route used by the Desert Mounted Corps as they out-flanked the Turkish Gaza-Beersheba line and headed for the town. We ascend Tel Beer Sheva where we will be able to see the ground the 4th Australian Light Horse Brigade charged over. Our touring day concludes at the Australian Soldier Park. Overnight Beersheva. (B-D)
Tuesday 31 October 2017; Beersheba
After our delicious Israeli breakfast, we attend the mounted parade through the streets. Then on to visit the Beersheva War Cemetery for the official Commemoration of the Centenary of the charge.
The charge itself is considered "one of the most strategic and decisive Allied victories of the First World War" according to a proposal for a museum made by the Light Horse Association. "The charge by the 4th (Victorian) and 12th (New South Wales) Light Horse Regiments of the 4th Light Horse Brigade took place over 6kms of open ground, under heavy enemy fire. In one dramatic hour the Australian Light Horsemen, backed up by the New Zealanders, captured the city of Beersheba."
"The battle's significance in the context of the war was that it broke the back of the Turkish German resistance in the Middle East. In more far reaching geopolitical terms, it proved to be one of those pivotal historically changing moments."
After lunch, we will tour the town visiting the sites (now mostly built-up) occupied by the various Light Horse Regiments as they closed the noose on the Turkish defenders of the strategic wells. As the day closes we will be present for a re-creation of the charge. Overnight Beersheba. (B-D)
Wednesday 1 November 2017; Beersheba – Tel Aviv
Breakfast, then head off for the a therapeutic "float" in the medicinal waters of the lowest point in the world – The Dead Sea.
Then on to visit the site of Masada, built by Herod for palaces for himself and fortified the site between 37 and 31 BC but most know the history of the siege by the Roman Empire ending in the mass suicide of the 960 Sicarri rebels and their families who were hiding there. We will then continue journey to Ein Gedi to visit the Spring's where David hid from King Saul, driving through the Judean Hills we will follow the progress of the Desert Mounted Corps as position after position was secured on the road to Jerusalem. For those retuning home or elsewhere there is a transfer arranged to Ben Gurion Airport.
OPTIONAL TOUR OF ISRAEL – Call for details
Summary of Tour
Price includes:
Airport assistance, touring expenses in all countries visited with an English speaking tour guide in modern air-conditioned coaches, nightly accommodation in 3 or 4 star hotels, majority of hotel and airport baggage handling, all entrance fees and meals where indicated (Breakfast – Dinner).
Price does not include:
Beverages with meals, lunch, drinks or Travel Insurance.
PLEASE NOTE : Arrangements such as transfers, accommodation, etc. outside the set group arrangements/dates are at an additional cost